Four Tribes Construction Services Secures Bigger Contracts with Increased Capital
About
Four Tribes Construction Services is a Tribally Owned corporation, 100% owned by the Susanville Indian Rancheria (SIR). The SIR is a federally-recognized Indian Tribal government located in Susanville, California comprised of four tribes: Mountain Maidu, Northeastern Paiute, Northern Washoe, and Eastern Pit River. The CEO, Doyle Lowry, has over 30 years of experience in construction and project management and describes the business as "a company that solves problems". Four Tribes Construction Services has a current bonding capability of $30 million and $75 million in aggregate bonding.
Executive Summary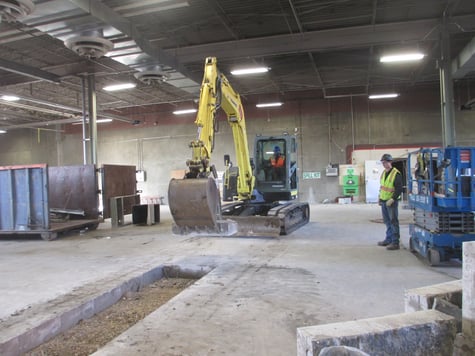 Around 2007, the tribal council of the SIR came together looking to branch out for diversity in economic development. They attended The National Center for American Indian Enterprise Development, RES Conference, the biggest economic conference for tribes, and after some discussion, the council began working with Bold Concepts. Doyle resigned from his current position as Public Works Director and became the CEO of Four Tribes Construction. Four Tribes began their journey through the SBA 8(a) program in 2011 and will graduate in 2020. Throughout the years that they have been working with Bold Concepts, they have seen immense results:
First year Enhanced Bonding of $10 Million
Growth from first year of $880 thousand to $30 million in contracting within five years
$50 million in bonding and $150 million in aggregate
Challenges
One of the challenges Four Tribes faced was that they knew they wanted to do construction, but didn't exactly know where to start. With the company being tribally owned, they needed to uncover how to handle sovereign immunity for insurance purposes. In addition, there was the issue of labor. Four Tribes Construction started with just Doyle Lowry. They needed to contract marketers, officers, and project managers, and they needed to find government business--all of this relied on, at that time, their current capital constraints.
"We were doing construction on our own property, our own land, but to go out in the world and do construction...we understood bonding, but we didn't know how to get bonding. We didn't understand how much capital we needed to get started," said Doyle Lowry. "Bold has experience with 8(a). They started answering the questions we needed to find out."
Solution
Bold Concepts prides itself on enhancing the growth of small businesses participating in Federal Government construction programs, and their work with Four Tribes Construction Services would be no different. Bold Concepts worked with Doyle to develop a plan to meet their unique goals as a tribe. The plan included strategies for not only building the current Federal Construction business, but ensuring a strong foundation would be established to support multiple entities—all leveraging the tribal brand. Bold Concepts provided access to the capital necessary for Four Tribes to get started.
"Our first bonding was $10 million and we hadn't even had a job yet and that is because Bold backed us. That helped us a lot," said Lowry. "The enhanced bonding capacity aided Four Tribes in acquiring instant credibility and receiving larger projects right off the bat."
Bold Concepts would also assist in providing qualified individuals for office support (bookkeeping and finances), marketing, business development, proposal management, project management, and more throughout Four Tribes Construction's business development and growth.

"They made a promise to our tribe—that they would empower us to learn the Federal construction business and they did just that."
-Doyle Lowry, CEO of Four Tribes Construction Services
Results
Four Tribes utilizing the Bold Concepts program was successful. Within the third year of the 8(a) program, Four Tribes had $9 million in revenue. Each year it continued to increase. They have since graduated from the 8(a) program and are currently expected to produce revenues approaching $150 million by the end of the year with the creation of additional 8(a) companies.
Four Tribes Construction has now evolved into a brand of several 8(a) companies under the Four Tribes umbrella. Four Tribes is now nationwide and Doyle has been able to greatly increase his in-house capabilities and staff while continuing to leverage Bold Concept's experienced personnel when efficiencies do not yet exist. Four Tribes' growth continues to jump each year.
Bold Concepts maintains assistance where needed, as well as, supports Four Tribes in their goals to eventually expand their services.
"Why Bold? Number one, they are honest, everything is transparent. They don't hide their numbers. Two, they have knowledge that you don't even think about. They have institutional knowledge that is vital for growth."
-Doyle Lowry, CEO of Four Tribes Constructions Services