Gale Construction Expands Its Revenue and Capacity With Enhanced Bonding
About
Gale Construction Company (GCC) is a woman-owned, 8(a) and HUBZone-certified civil construction company co-founded by President and owner Laura Pager. Since its beginnings as a local subcontractor in 1996, GCC has built its capacity and capabilities to become a self-performing prime, specializing in large-scale waterway projects and design-build for the federal government. GCC has worked on complex projects for a variety of federal, corporate, state and local clients, including the U.S. Army Corps of Engineers, Department of Agriculture, Illinois Department of Transportation, Waste Management, Standard Parking, among others.
Executive Summary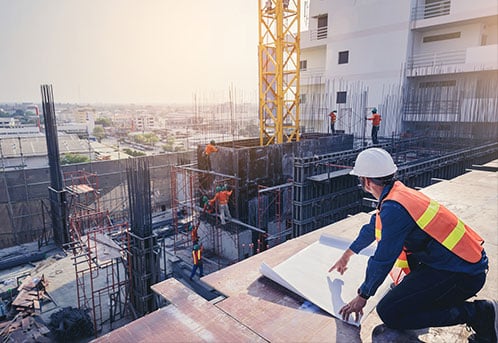 GCC was drawn to Bold Concepts for its bonding assistance and ability to help the Illinois-based business expand into the east coast market. Several years prior, GCC entered the Small Business Administration's (SBA) 8(a) program to build its company capacity and capture more opportunities in the federal market. Three years after receiving 8(a) designation, GCC chose to work with Bold Concepts to accelerate its business growth. Since teaming with Bold in 2017, GCC has successfully expanded into multiple regions and won a record number of high-value federal contracts. Between 2017 and 2022, GCC leveraged Bold's support to achieve the following:
Increased annual revenue from $2–3 million to $13.6 million, with projections to reach $20 million by 2025
Expanded from 1 office serving 1 state to 3 regional offices serving 6 states
Increased its staff from 6 to 23 employees
Challenges
GCC entered the SBA 8(a) program in 2014 with the goal of growing its portfolio of federal projects. At that time, the company was in its 18th year of business with an annual revenue of $2–3 million. During its first three years in the 8(a) program, GCC won a number of federal contracts. However, the company found that it lacked the bonding capacity and cash flow to bid on more lucrative projects. This made it difficult for GCC to progress beyond its current revenue tier and move to the next stage of growth.
"We had always remained a 2 to 3 million-a-year company, because it was hard to escape the cycle of bonding capacity and cash flow," Ms. Pager explained. "Of finishing a job and needing to have 10% in cash to secure the next bond."
Ms. Pager added, "When I entered the 8(a) program, the first few contracts I won were terrific. When you're working with the federal government, you get paid within 30 days—sometimes sooner. And that worked out really well. But to get to a different revenue level, I needed to increase my bonding program."
Solution
GCC entered Bold Concepts' Enhanced Bonding Program in 2017 to increase its bonding capacity and position the company for higher growth. The business relationship began when Ms. Pager met Bold Concepts CEO Kevin Wimsatt at an industry event at the Society of American Military Engineers. Mr. Wimsatt saw GCC's clear potential for growth and explained how Bold could offer bonding support with co-indemnification. "That was one of the reasons I went with Bold— because they offer indemnity," Pager said. "So I was able to immediately benefit from a higher bonding program."

As co-indemnitor, Bold Concepts would leverage its resources and trusted relationships to back GCC's bonding with brokers and underwriters. This would give brokers the confidence to offer GCC a higher level of bonding, allowing GCC to pursue higher-value contracts.

"That gave me a level of comfort that Bold could help me get to the next level," Pager noted. By participating in Bold Concepts' program, GCC also received expert guidance with marketing development, strategic planning, project execution, and back-office operations.

"Bold teaches you to how control your company, estimate how many employees you'll need, how to use different marketing resources, and how to hire the right project managers," Pager explained. "They help you establish a solid framework for faster growth."
"Bold teaches you how to control your company, estimate how many employees you'll need, how to use different marketing resources, and how to hire the right project managers."

-Laura Pager, President and Owner, Gale Construction Company
The Results
After five years working with Bold Concepts, GCC is preparing to graduate out of the Enhanced Bonding Program. Ms. Pager says this decision is a positive development and a testament to how Bold has empowered GCC for rapid success.
Applying the framework and best practices imparted by Bold, Ms. Pager has built the business capacity to acquire her own bonding and estimate her own jobs. She credits Bold for giving her the confidence to hire the right personnel to expand her staff, bring her business to new markets, and execute larger projects. As a result, GCC has more than quadrupled its annual revenue from $2–3 million to $13.6 million between 2017 and 2022. Currently, the company is on track to reach $20 million by 2025.
"If somebody had told me when I started in 2017 that I would achieve this, I wouldn't have believed it," Ms. Pager said. "I never thought I'd be out of the $2–3 million cycle of bonding and cash. Now that I'm out, I see I have the ability to market for myself and do vertical work from the ground up—and am now on a GSA IDIQ contract."
Bold's guidance equipped GCC to market itself on a national level. As a result, the Illinois-based company opened two additional offices in Florida and Pennsylvania, and now serves six states across the three locations.
"I'm bidding on more work in more regions," Pager said. "I never would have had the confidence had I not gone with Bold."